Select new section for the document
Meeting 06
Created over 8 years ago by Thomas Ochman
Recapped newly discovered google spreadsheet functionality that has addressed some critical VAH needs
1)
list view
- allowing to isolate views of projects and particular charities
2)
validation
- ensuring incorrect project names and charities are flagged
Rachel feeling that the combination of these has addressed some of the
current user story features
[Note, would be nice if the validation could do search on existing names as you type in]
VAH currently using validation on project name to keep track of activity on particular projects in the activity log
[some talk about pulling contact details out by project into other sheets/tabs to allow mailchimp to target them]
VAH interested in merging/linking their activity log with their other spreadsheet with data scraped from guidestar database of charities and their own contact details, although this is perhaps lower priority than a public facing directory of charities for the local area.
Rough dataflow related to UK Charity information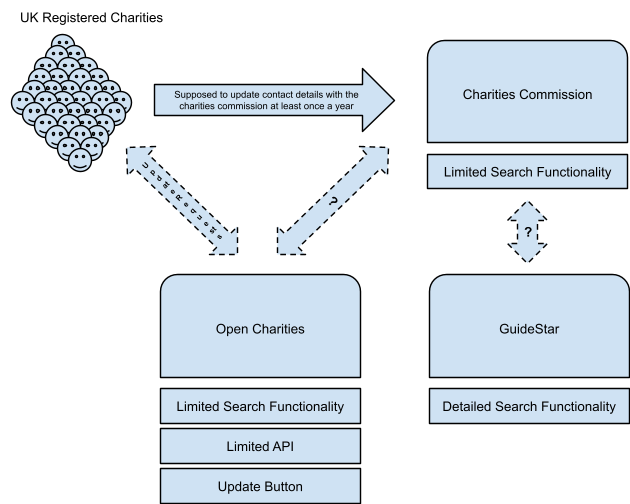 Some charities may not remember to update their data every year - also if address changes, reminders from charities commission may not be arriving at the right person, who may think they have unregistered.  Operational address may be different from registered one for short periods of time.
We'd like to ensure that we can take advantage of any data updates that open charities receive.  At the moment we are grabbing a snapshot of data from open charities, but that will gradually go out of date over time.
Sam was thinking that identifying different sub-sections of Harrow charities was an important internal goal, which it is, but seems like it is lower priority than creating a public facing website for local charities, which when built would be something to show to the local charities.
Such a system might have data which included "registered" contact details and "operational" contact details for each charity, with the "registered" contact details being updated automatically and the "operational" contact details being updated by local users.  When they match a single contact data could be displayed, and both if they are different with notes about what the difference between the two is, although at the same time what we critically need is user stories that can be validated by end users ...
Could be looking at whole of West London, but politically easier to start just with Harrow.
VAH's data set has 800+ charities, plus their own editions.
Everyone positive about the map view.
Discussed possibility of pulling contact details out of activity log for internal purposes (avoiding data duplication)
Note that in order to register a charity must have £5000 in the bank, and so public website would serve charities not yet registered, and other non-charities such as non-profts, social enterprises etc.
Three types of users
1) Internal Administration
2) Charities - want to collaborate with each other
3) Public - want to volunteer
Separate domain name for Harrow Community Website
Facebook and twitter based login would be nice
"Social Networking Service for Local Charities"
"Directory for Local Charities"
Supporting dialogue between local charities and local people
Things that charities are likely to want to do
1. promote events
2. fund raising
ACTIONS ITEMS
Sam: diagram of data flow DONE
Sam: get version of data for precise Harrow area
Sam: work out how open charities is updating its data
Sam: set up pivotal tracker for public web site
Sam: new user stories for the public web site
comments powered by

Disqus